You could do a search for "gift wrapping hacks".
The toilet paper roll - better than it sounds - could contain a mood ring.
I tried using fancy non-wrapping paper from Michael's, but it was hard to work with. I'll stick with normal wrapping paper.
If you A) can find the right book about black holes and B) can think of the right person to give it to, then you can have fun with packaging. Wrap it in just black paper, with no labels or anything. Black holes give out no information. For the best look, head to Michael's to get the sparkly black paper. On the other hand, this is hard to work with and also has a cost.








Do you want to have handmade presents for Christmas, rather than plastic from China ordered through Amazon? That's a way of doing things.
Gamaroo is a game where you have the classic roll a die and move your piece down a path. Some of the spaces have challenges on them, often questions. This is intended for a whole family as a Christmas present. Gamaroo has been moved to the Games page, or you can go directly here.

You could make Gamaroo for a family including kids and tweak it for your needs. In theory it could be a lot of fun, with everything from push your luck with dice to trying to make people laugh to a physical challenge. A lot of questions.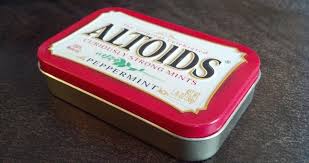 You could make Stand By Me (see the Games page) and stuff it in a little Altoids tin. This might not be useful, but now I can entertain the possibility that someone is doing this.
Get two red dice, two white dice, some squares or rectangles of paper, and a small pencil to write names. Cram it all in an Altoids tin.
This has advantages. It is both small and rugged. This handmade, or hand assembled thing is easy to make can be tossed out if you don't want it. The rules are simple. It could be fun.
You just need a dozen willing players to get together to play this unproven game during a pandemic.
By the way, I'm not so sure these games need instructions, awkward pieces of paper. In the highly-connected 21st century world you can look up rules. In the village with the dirt road they don't have written instructions either.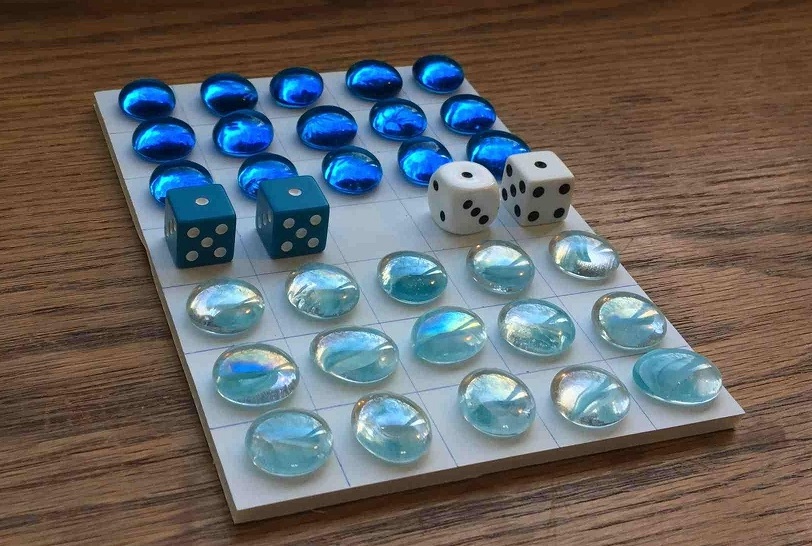 Possession

Q: Will someone be excited by this?
A: No. Even I didn't give this as a gift.
But let's consider the advantages.
Handmade. You can check that box. Make it from posterboard, or whatever material you think is best.
It is small. With a five-inch width, it could fit in a stocking.
The game is not too long, and the rules are easy to understand (at least I think they are).
This is a good game. It has the right amount of complexity. The two sides will tend to be even throughout the game.








If you want to get a traditional game, get fanorona. Yote is more familiar, easier to get, and is fine.
I can't resist mentioning dou shou qi, maybe a little box with a paper board from Hong Kong.
(from last year)
The real star of the show this Christmas was Shifty Eyed Spies. It's hard to exaggerate how much fun we had with it. Two generations of people played it, and played it and played it, until insane o'clock. Then we played yet another round, after everyone again agreed to do so.
You more or less stare at other people. People get giddy. I would stare at a lady and make her laugh just because I could.
At one point I had all three people at the table winking at me. Imagine looking at each person in turn and they each wink at you, even that little girl, and you have to deal with it. I'm not too bright, it was funny, and I was unable to focus. Note that in addition to your reactive mission and your destination card you have a separate active mission where you wink at the person for whom you are holding a person card. And you're supposed to do something. And not get caught. I tossed my cards in the air. When I was eventually able to speak through the giggling I said "I broke".
Maybe it needs the right crowd. Having the ancient crowd play it is .. unproven. When we used four players I was wondering what it would be like to play with one extra player, which we did. But it worked fine with four players. You want a round table, or at least equidistant players. Eventually we cooled on being entertained by the game.








I actually don't recommend this, it's too weird, but it's worth mentioning.
You could leave it unwrapped under the tree, for people to have some fun before and after presents are opened. It's a minor craft project for someone. You could find a way to make the figures stand up, three dimensional.








And then there are puzzles, typically wire puzzles. These are tricky to recommend as gifts. On the plus side they are neat. On the other hand the recipient might not like it, it will be used more or less once, and you want to somehow get a wire puzzle that is not too easy and not too hard.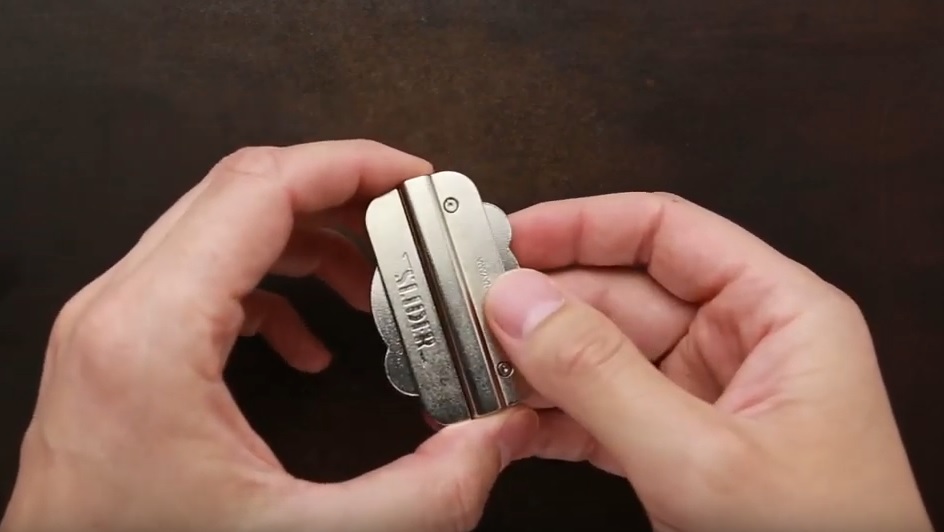 To get more pictures, go to here. That's an excuse to go to www.puzzlemad.co.uk. Gabriel Fernandes' Puzzle Collection likes it. For a video check out Mr. Puzzle. This includes a solution, and also neat instructions for putting it together again.
I got it already. Even after getting some idea by looking at the video I had a hard time doing it. I did not figure it out with logic, which is a little disappointing. It is said to be a fidget spinner. This is true once you get the solution. You can do a slicker and slicker job of getting it undone.








My standard wire puzzle recommendation is beetle bug, in the sweet spot between too easy and too hard, for a regular person.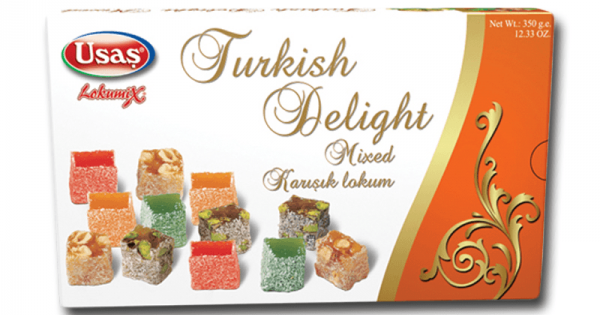 (As someone who does not like gummy candies) I've suddenly taken a liking to Turkish Delight, or lokum. This Usas product comes from Turkey. We're not sure what ingredient makes it what it is. It is something in between food and candy. You won't look at other candy the same way again.
More than one person is going to get this from me for Christmas. You can get it from your local middle east store. It's good for a variety of people, like Aunt Ralph.
I've been debating getting the rose flavour product (read the blurb) for someone named Rose. It has the nice stunt name for my purposes, and a girly look. However, it is an inferior taste to other Turkish Delight. Having said that, I would love to have a box of this right now, with its subtle rose. Unlike the other variants this has a pile of fine sugar on it, which makes it messy.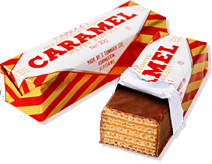 It has become tradition for me to put a group of four of these Tunnock's bars from Scotland under the tree. Wrap the group in a red ribbon and don't put a label on it. These sweets are nice, but it's the look that makes it extra appropriate for Christmas.


Gingerbread cookies haven't been on the agenda for years, but I love them and they are part of Christmas tradition. I find it hard to track down wrapped ones.
Nuts and metal nutcrackers are on the agenda. They're traditional, nutritious, and fairly fun to eat. You could put them in an inexpensive Christmas basket, or something more pedestrian.
I will give a number of drinks to a number of people. It's what I do. I might find some Moxie in my stocking, and I might find out what that red Cheerwine tastes like. Sorrel, with a red ribbon, has a seasonal red look. There can be an ethnic angle. Peruvians drink purple corn juice, chicha morada. My Trinidadian friend said they would have Peardrax on Christmas.








In case someone wants a knitted tapir for Christmas. Bonus points for tracking down the associated baby tapir and the babirusa pig.
You could put a wrapped licorice pipe in a stocking. This seems to be a Canadian product. Kids might not love the taste.
I put one mandarin orange in a stocking.
Candy canes are traditional. I don't like them, but they are traditional.
Milkybar is a thin little chocolate bar from Britain. It would be hard to get.
I do not have the opinion that you are obligated to fully stuff stockings with things that are perceived to be exciting, and loads of sugar.
I would like a few caramels in my stocking. Some nuts are okay. See above.
Here's something different: you could give a bottle of lutein pills. Good for the eyes.
I wonder about giving a ticket for a lottery in support of a hospital ("HSC Millionaire"). Win/win/win. All things being equal, the dates of the draw might not be right.
So, how do you feel about a gift card for the restaurant, help keep Greg's Greasy Grub afloat? Maybe the gift cards are only for the big chains. Is that a bad thing? Will the money go the right place?
For almost a year I've been cutting out black and white newspaper comics "curated comics", and sorting them into Grade A) best B) not as good and C) discarded. Mostly discarded.
If you want to purchase a book of comics, I recommend Pickles, about an old couple, and/or Zits, with its attractive art, about a couple raising a teenage son. Don't put Pickles in a box as being just for old people; it's a quality comic.








I'm going forward with giving a number of presents in wrapped macaroni and cheese boxes, because that's what people I like. What could you put in a m & c box?
Possible things to put in m & c boxes include select sweets, keychain, newspaper comics, gift cards, coins, toy car, the slider puzzle, COLOUR dice (more later). A compass. An Altoids tin. Maybe the farmer, boat, fox, chicken and corn riddle. A clue for a treasure hunt, although I prefer an envelope. Jewelry.
As for wire puzzles, there is this nice eagle-shaped one, which probably fits. This is a fine puzzle, particularly for beginners. This was the first one I did, and I was struck by how it appeared impossible. I have a history with this one. I did not figure out how to do it, never did. The puzzle managed to solve itself while stored in my bag. Then I lost track of where it went. The star puzzle which you may encounter is as cute as it looks, and is certainly not bad, but it is relatively simple, so it may not be worth it. This set will improve your emotional intelligence.








For three years in a row we have had treasure hunts. In addition to being a bunch of work, it is kind of tough on the nerves because things can go wrong, particularly what I call "clue rot", people encountering clues prematurely. Generally one person will do the treasure hunt while others are on and off, which is not really right. The people I did it for have gravel for brains.
This year the treasure hunt is being replaced with gamaroo. This is not a walk in the park either, with a rather complicated thing, played once by a group of people who have to be corralled for a complete game. The sweets issue bothers me more than anything else.