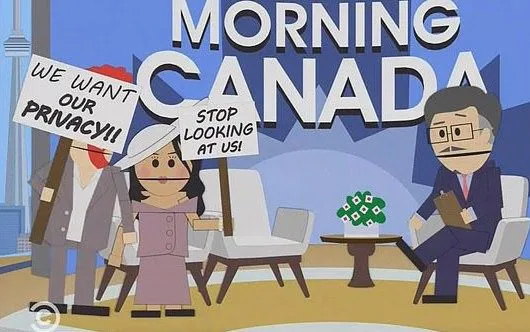 Good Morning Canada is a show that does not exist.

While in Canada, on the road to getting married to Prince Harry, Meghan Markle was friends with Jessica Mulroney and Sophie Trudeau, and all three husbands were not strangers. Sophie Trudeau is married to Justin Trudeau, who is the (Liberal) Prime Minister of Canada and the son of Prime Minister Pierre Trudeau. Jessica Mulroney, a force in the fashion world and from a rich family, is married to Ben Mulroney, who is the son of the former (Conservative) Prime Minister Brian Mulroney. People in the media have referred to this lot as Canadian royalty.
Jessica Mulroney got involved in a scandal of her own, a mess involving social media, race and privilege that you can sort out. Mrs. Mulroney lost her fashion job on Good Morning America and also an upcoming CTV show. Ben Mulroney left his job as host on CTV's Your Morning, saying he was making room for diverse voices.