games
language and culture
Christmas
food and drink
other
A minute or so. Kluster is another magnet game, like the old Canadian game Polarity. Small. He's quite fond of Shifting Stones too.
This channel features jigsaw puzzles, including some unusual ones.
This will be going out of the library.
Christmas suggestions:




COLOUR Dice as a tiny gift, or a superb stocking stuffer. See the Games page. You will need 1) order blank dice online 2) coloured markers (I call them felts, family tradition) 3) a good, steady writer with the time to put on the letters 4) probably a bag. You can get a wedding bag from Michaels. A plan may or may not be needed. Consider the efficiency of doing this in some quantity. I recommend having the rules just word of mouth.
Is this appropriate for old people too, keep the brain working? You can show it to your grandkids when they come by.


Gamaroo could be made by four people in a single day, in a fascinating process. Play it with four players.


There is a list of reasons that Stand By Me would be good for you to give as a stocking stuffer/gift. However, I am pessimistic that people would play it, mostly because of player count.


You could make the tiny, rugged, Chase the Base. The results will be .. you tell me. Physical.


You could buy Shifty Eyed Spies from somewhere. Loads of fun. See the library.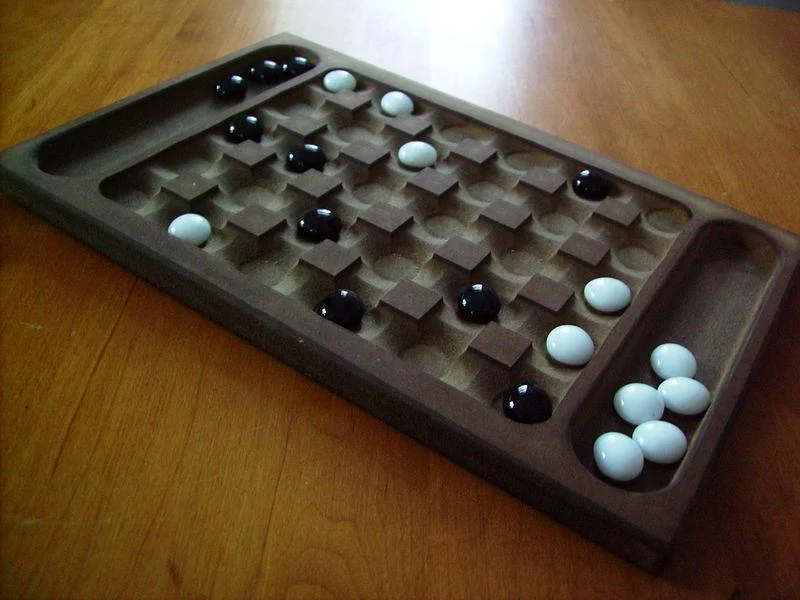 Yoté can be purchased online. This is a good game, for all ages. The capture by jumping will be familiar to people.
Fanorona is a fine game from the fringes of Africa. Has a catch-up mechanism, so nobody's getting crushed. A fancy version could be ordered online, or just have some sort of paper (laminated?) board with the glass pieces.
One could throw in mancala to get a trio of African games. Something to consider.


I'm upbeat about Better Letter. That doesn't mean you should be. Let's say it's 11:30 on Christmas Eve, and you didn't manage to get a Christmas present for someone (and you think that matters, but let's not complicate things). You can make it on Christmas Eve. Or Christmas Day, at worst a sort of IOU or a craft activity. When people get together during Christmas to play it, they will have a fairly brief, interesting, peaceful group experience. Then you can toss it in recycling.


You can make Possession.
Pro: This is a good, replayable game. There's a reason it's at the top of the Games page. The catchup aspect and the steady amount of challenge are what make it good. Small, five inch width.
Con: The board material raises questions. You'll have to figure out what to do about rules, as well as storage. It's hard to say what your recipient will make of it. The A/B design issue should not bother me or anyone, but it always will bother me.




For wire puzzles, my go-to suggestion is Beetle Bug, with the right level of difficulty. Screamer, which looks like an eagle, is good for a stocking. This is easier, but it was a challenge for me to solve. This is not hard to find at the local store. The star shape puzzle is attractive, I get it, but it is easy, so it will be solved and then you're done with it. I have a history with the simple-looking Lion's Lair puzzle. I tried it over a few days here and there, trying different approaches, got nowhere. Then when it was carried in my backpack it solved iself randomly! Then I lost track of it.








Some demographics from the local mall:


1: Indians. The number of people from India has been gradually growing, growing, growing, growing.
Some confused folks.
Note to self: Keep an eye out for Kit Kat Cheesecake.
How a Scottish scientist's invention influenced 19th-century American decorative art